Podcast er det nye, og vi kan ikke lade være med at tale passioneret om kundeservice, salg og ledelse – vi taler faktisk hele tiden om det. Derfor tænkte vi: "Hvorfor ikke dele det med alle dem, der kunne have lyst til at lytte med?". Det blev startskuddet til vores nyeste skud på stammen – podcasten "Servicebrief", som består af en række podcastafsnit om kundeservice og salg, som du kan lytte til, lige når det passer dig. Find en oversigt over alle podcastafsnittene her på siden.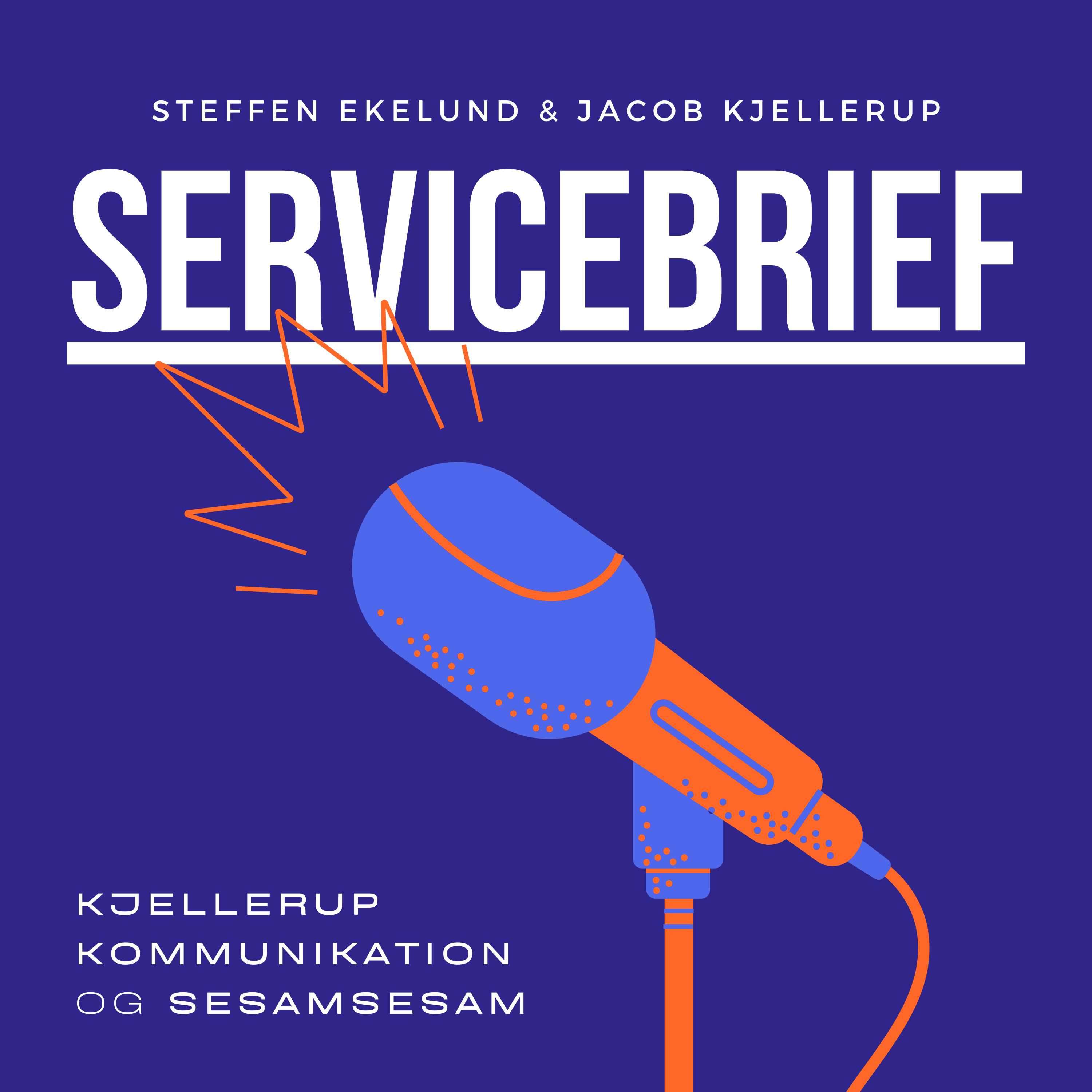 Få et overblik over de seneste afsnit af Servicebrief lige her ↓
Podcast – Servicebrief 
– Med Steffen Ekelund og Jacob Kjellerup
Podcasten er lavet til dig, der gerne vil blive klogere på god kundeservice, og hvordan der nemt kan skabes mærkbare og vedvarende  forandringer for medarbejdere, ledere og ikke mindst kunder i alle typer af virksomheder og brancher. 
Vi har sådan glædet os til at kunne introducere dig for podcasten, og vise dig, hvad vi har arbejdet hårdt på i lang tid. Vi håber du vil tage rigtig godt imod Servicebrief. Ris, ros og forslag er altid velkomne og vil blive taget imod med åbne arme, så tøv ikke med at kontakte os, hvis du har spørgsmål eller kommentarer til podcasten. Skyd løs! 
Beskrivelse af podcasten Servicebrief: 
I løbet af første sæson bliver du let og elegant (mere eller mindre) ført igennem de vigtigste og nyeste emner inden for service af de to eksperter, Steffen Ekelund (chef for kommercielle tiltag hos Kontolink) og Jacob Kjellerup (konsulent og specialist i kundeservice, salg og ledelse).
Konceptet er enkelt; vi har optaget vores ærlige og helt igennem no BS-telefonsamtaler, hvor vi dykker ned i relevante service-emner, hvor du får serveret værdifulde erfaringer fra erhvervslivet, de bedste tips og tricks og ikke mindst små hemmeligheder, der kan gøre en enorm forskel i enhver serviceafdeling. 
3, 2, 1 – LYT! … Og rigtig god fornøjelse.

Steffen Ekelund og Jacob Kjellerup, Værter på kundeservicepodcasten Servicebrief